Phoenix Park Book
Posted: 12/1/2013
"An illustrated history of the Phoenix Park landscape and management to 1880"
by John A. McCullen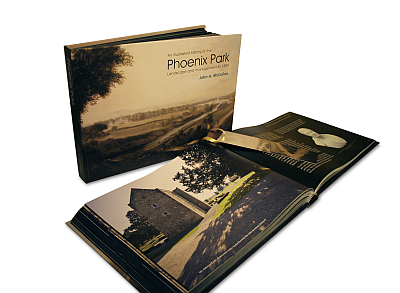 The OPW recently published a new book on the Phoenix Park entitled "An Illustrated History of the Phoenix Park, Landscape and Management to 1880".  The book is written by Dr. John A. McCullen, one of the country's foremost experts on the history of the Phoenix Park and resident OPW Superintendent of the Park since 1984.
The book is an all Irish production, commissioned by the Office of Public Works, designed by Paul Martin Communications, printed by Walsh Colour Print, Co. Kerry and bound by Celtic Press, Dundalk.
The book is on sale in the Phoenix Park Visitor Centre, Ashtown and in the Government Publications Office, Molesworth Street, Dublin 2 or by mail order from the Government Publications, Postal Trade Section, 51 St. Stephen's Green, Dublin 2 (Tel 01-647 6834/35/36/37 or Fax 01-647 6843).