Samuel McGredy died at his home in New Zealand 26 August
Posted: 28/8/2019
The Officers & Committee were sad to learn that Samuel McGredy died at his home in New Zealand on the 26th August 2019.
At the age of twenty Samuel inherited the famous nursery in Portadown, County Armagh that had been founded in 1878 by his great-grandfather, Samuel McGredy and continued by his grand-father and father, all also called Samuel. From an early stage the nursery became renowned for its roses and when Samuel took over in 1952 he initiated a further period of expansion, introducing his first roses in 1958. In 1972 during the 'troubles' in Northern Ireland he moved the whole nursery, by then named 'McGredy Roses, International'  to New Zealand, where the climate was better suited to the business.  He was best known for what he himself called 'hand-painted' roses, that is roses of one colour splashed or striped with another. He retired from rose breeding in 2007 and subsequently closed the nursery, but retained his many friendships in Northern Ireland and across the globe. 
Click here to watch a short Video of Sam McGredy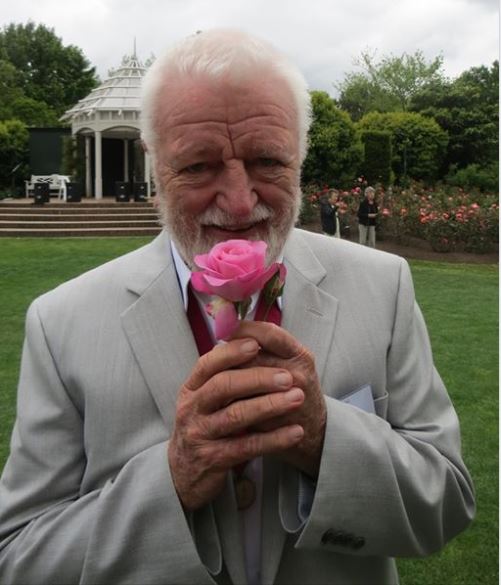 Tribute from the New Zealand Rose Society
Vale Dr Sam McGredy IV 1932 - 2019. An icon of roses in New Zealand and around the world, Sam leaves a lasting legacy of many beautiful rose varieties grown in many gardens around the world including 'Aotearoa', 'Dublin Bay', 'Olympiad', 'Paddy Stephens' 'Sexy Rexy', 'Trumpeter' and many more. Sam helped to establish Plant Variety Rights (PVR) in New Zealand which gave plant breeders of a wide variety of species the ability to protect new cultivars and make a return on their investment in developing them. He has also been a great encouragement and support to other rose breeders in New Zealand who are now producing many fine roses.
May Sam rest in peace and let us treasure all those beautiful roses he created.